Bucky and I met in June 2010 at a mixer in Sabattus, Maine, where they play 50's and 60's music. He walked through the door and a friend of mine grabbed his arm, l 'brought him and sat him next to me. We sat down and talked and then we danced and had a great time. It was really noisy that night so we decided to meet in a park another day so we could sit and talk. That day, Bucky explained that he was also speaking with a woman online. He was torn between who to choose, but he had to make a decision on which relationship to pursue.
Eventually he decided that because he and I lived an hour away from each other, he would date this other woman because she was closer to him. I was heartbroken, but I told him I was going to a country and western ball and if he wanted to come he could.
He followed me to the dance and we danced and both had a fantastic time. At that point, Bucky knew I was the one he wanted to be with. We decided to start seeing each other officially and the first time we said "I love you" was in September 2010. Bucky then proposed to me in November 2012.
Our mutual love for travel was part of what brought us together. Bucky's dad was a TV repairman, so he grew up traveling a lot to different states for his dad's job, and I traveled a lot with my family on vacation. We had talked about traveling together and I had the idea of ​​doing something where we could travel and celebrate our love; travel to all 50 states of the United States and renew our wedding vows in one location in each state. I didn't tell Bucky until I asked him to write his vows, so I had to make all the plans and buy a wedding dress, as we still weren't married yet. It all started before our wedding. We finally got married in 2013, but the first five "marriages" were done on our own with a camera on a tripod.
The very first time we took our wedding vows was in Niagara Falls, New York in June 2012. Mine for him was: "You are my angel of love. Life is a journey and love makes this journey worthwhile. I give you my hand and promise you my love as we set off on this journey through all 50 states. I will love you for the rest of my life. "And his was," I love you. I am so grateful that we have found each other. You are the perfect girl to me, I thank God for this everyday and I thank you for being so good to me. For the first time in a long time, I look forward to the rest of my life. I love you and I will love you forever. "
After New York, we took our wedding vows in Ohio, Kentucky, West Virginia, and Maine. In each state, before we took a photo, we faced each other and said these vows. I had a dress that I paid $ 350 for. I modified it to make the train take off because it had to be clean and not to drag on the ground. I wore this dress, the same shoes and the same red or blue jewelry every time. I have a red heart necklace and a red ring, and a blue heart necklace and a blue ring, and in each state I alternated between red and blue jewelry.
Bucky had a shirt with the United States flag on it; with stars on one sleeve, stripes on the other and stripes in the middle and he wore that with black pants to each of our renewals.
Michigan was the sixth state we planned to visit and we decided to take our vows there in a small town called Hell. I had seen the city on TV years ago and it seemed like a fun place to go, with a funny name. As the travel date neared, Bucky asked me if I would like to get married in hell for real. I said yes! Our marriage certificate says, "After all, a marriage that begins in hell has nowhere to go but to go up."
Our wedding day was June 19, and the Chapel of Hell was so small that it only accommodated ten people. We told our friends and family in Maine that we were getting married, but we didn't think anyone would come. I was at the church altar when the celebrant said she had to go out and find witnesses at the gift shop. She came back with her daughter and my grandson. It was a big shock. I later discovered that my daughter had planned with Bucky to surprise me.
The next states we renewed our vows in were Illinois and Pennsylvania, we managed to travel to 25 states in total before Bucky retired in 2017.
There was something individual about all of our vow renewals that we loved about them. We did something a little different for each to make it amazing. When we took our vows in Maine, we wanted to photograph our wedding vows during a snowstorm at a lighthouse. We went in the morning at 9:30 am, the snow was coming in and there were 35 p / h winds and a temperature of 9 degrees. When we got home we had 32 inches of snow on the ground. It was a memorable wedding.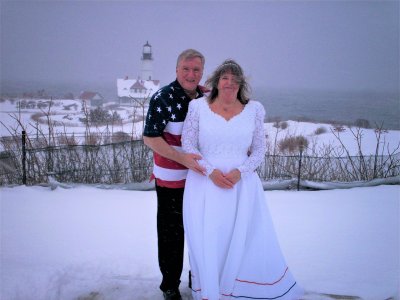 In 2014, we flew to Hawaii. We renewed our vows on Honolulu Beach and I wore a necklace around my neck and a flower headband. Then we visited this island, we flew to the island of Hawaii and visited a volcano. In North Carolina, we said our vows at the Cape Hatteras Lighthouse. It was beautiful. In Iowa, we said our vows in front of the house that inspired the painting 'American Gothic', we wore our wedding clothes but we dressed in the outfits from the painting for a photo there too. We even took our wedding vows at the UFO Museum in Roswell, New Mexico.
After Bucky retired in 2017, we got an RV camper van. It was really the idea of ​​both of us to renew our vows in the remaining 25 states by traveling together in the motorhome. The first state we went in the RV was Virginia, we renewed our vows in Virginia Beach near the statue of King Neptune. It took us four more years to complete the 25 second states, and although on our fifth wedding anniversary we renewed our vows again in Hell, Michigan with the woman who married us, all 49 other states we did it ourselves. The end state in which we renewed our vows was Alaska in 2020. We took a small eight-passenger plane and flew over Denali National Park to Mt Denali. We circled the mountain in a plane, dressed in our wedding clothes, and the pilot then landed the plane on a glacier. All the passengers got off and we said our wedding vows in front of the plane.
It gives me goosebumps and tears in my eyes when I think about what the people we met along the way told us. When people saw us they would say, "" What is the occasion? Are you getting married or is it an anniversary? "We would tell them that we were traveling to every state and renewing our wedding vows there. People loved it and told us it was a wonderful idea. They were stunned 50 states, we were a little sad it was over, we wanted to do more.
The way I think it is, we weren't just doing wedding vow renewals when we visited every state. We have seen rail cars traveling across the country; we were on Pikes Peak in Colorado, the mountain that inspired "America is Beautiful"; we went to The Flag House in Maryland on flag day and even helped lower a flag at mount Rushmore in South Dakota.
This whole experience brought us closer together, our love for each other grew stronger and deeper. I'm 73 now and Bucky is 69 and we take advantage of each day and do everything together. We shared so much living in the RV, seeing all these places together and saying our best wishes to each other. What we have done is just an expression of our love.
Sandy Delano lives in Maine with her husband Bucky Delano
All opinions expressed in this article are those of the author.
As said to Jenny Haward.